Asphalt Patching and Repair
For over twenty years in the Naples, Fl and Port Charlotte, Englewood area we have been protecting and repairing parking lots and driveways. Asphalt patching is for jobs that are bigger than a few potholes. To perform an asphalt repair that will hold in our Southern climate it sometimes involves removing large parts of damaged asphalt paving. The base material may also be removed if it is inadequate.
An asphalt bonding agent is sprayed to help the new asphalt stick to the original surface. The new asphalt is packed higher than the existing surface and then compacted to become leveled. All projects are different, so please give us a call for a no obligation estimate.
Asphalt Crack Sealing
Southwest Florida asphalt demands  that asphalt cracks need to be filled. The heavy rains and water's destructive power  can destroy the integrity of your asphalt. We first clean the surface area with compressed air or routed to create a reservoir for more filling. Hot liquid asphalt is applied to fill in the cracks and to allow space for extraction and compression during weather changes. Cold tar patching is also available. Next to regular sealcoating, staying on top of those cracks is the most important way to maintain your asphalt. Letting a crack go until next year is a recipe for disaster. Please give us a call, you be pleasantly surprised how affordable and effective crack filling can be with SW Florida Asphalt's Surgeons.
Pothole Repair
Naples, Port Charlotte, Englewood and all of South West Florida area potholes occur when moisture penetrates cracks in the asphalt surface of a road or driveway. A pothole forms when dirt and gravel is forced out leaving a hole.. Our driveway and parking lot maintenance programs can help reduce the likelihood of pothole formation in the first place. To avoid potholes in the spring, call us now for an estimate on how best to maintain your asphalt and avoid potholes in the first place. We clear out all of the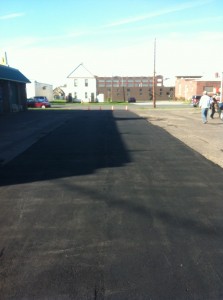 debris from the affected area before applying any asphalt. We fill the hole with hot liquid asphalt to make use the mixture fills every crack to prevent moisture sipping in. Then we tamp down the mixture to create a solid and tight seal. Finally we allow 1-2 days for the asphalt to harden. Ideally it's best to stay off the patch for as long as time as possible. 20 years of pothole repair and asphalt patching will be working on your patch and making sure the job is done right.
For asphalt patching and repair of your Naples area driveway or parking lot, give us a call or send an email for a free, no obligation estimate.